Ensys
Engineers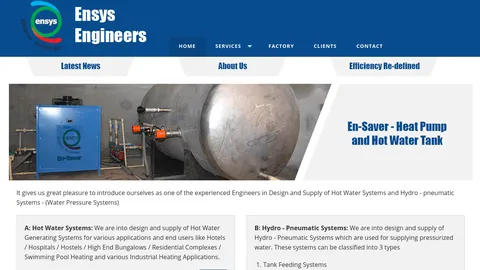 This heat pump manufacturing business required a website to showcase the pumps they were making along with the manufacturing facilities, their past clients, and a contact page that showed their location on a map.
This project's key points and requirements were as follows:
Local business website.
Responsive design.
Image slider.
Contact form with map.
We thank Akshay for the fantastic job done for our website Ensys.
It was a pleasure working with Akshay, as he worked closely with us at every step in developing the site. We value his creative input that exceeded our expectations.
He is young but very professional, committed to focusing on the customer's needs and showing a genuine interest in helping the customer to achieve the required results. From the first moment we felt that our project was in good hands and that the experience, knowledge and enthusiasm of this young man would show in our new website.
- Ensys Engineers