Mangesh
Thombare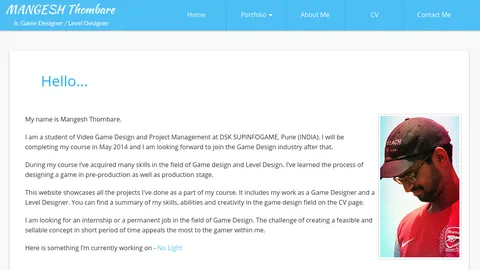 This was a portfolio website project for a game designer. His requirements were a responsive website that showcased his CV, embedded videos, documents of his completed projects, and lastly, a contact form.
Portfolio website.
Responsive design.
Embedded videos and documents.
Modal for images.
Akshay designed my portfolio website. The best part about working with him was that, I got a site fully customized and tailored to my needs. It is easy to navigate and works seamlessly on all platforms mobiles, tablets or PCs. When certain changes had to be made, they were delivered with precision within 24 hours of request. He has the patience to work at your pace every step of the way. You can have a fully personalized experience at an affordable price. It has been a pleasure working with Akshay.
- Mangesh Thombare